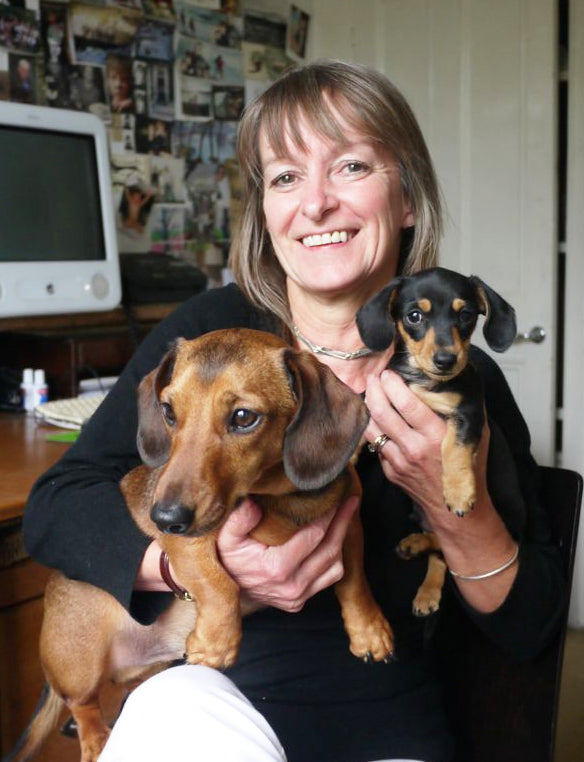 A Little Bit About Me…
After leaving Art School in the 70's with a BA in Graphics and Illustration I became a Book designer and worked freelance for many years combining it with Book Illustration.

I wrote and illustrated 2 children's books after our son Fred was born in '91. I worked as a visualiser for Dorling Kindersley then spent time commissioning artworks for Books and various Partworks.

Treatment for breast cancer 2002 caused a change in my career and gave me time to acquire 2 dachshund puppies. Having intended to bring home only one – Archie and Doug came into our lives and London Pooch began active production of greeting cards inspired by their iconic long shape and wilful personalities included in my redrawing of famous paintings. Dachshunds and Art. Perfect harmony.

Sadly they are no longer with us, but they were followed by the adorable grumpy Ned then later his small needy black and tan nephew Henry. Sadly Henry died too soon in 2020 and Ned resumed his solo role.

Having previously only worked with pencil and paint and galley type it has been an amazing learning curve to explore the delights of digital illustration. 2020 was indeed an eventful year for me and included the publication of my book A Dog's Guide to Art published by Pavilion. It includes many of my Dachshund artworks

I continue my quest to find perfect subjects for these design classic dogs to sneak into and enhance a well loved painting or sculpture both ancient and modern.